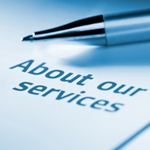 Heating and cooling systems have a way of breaking down when the weather is at its worst; on the coldest day of a frigid winter, or during a sizzling summer heat wave; times when your comfort system must work the hardest, and when you need it most.
Regular check-ups will help to maximize the life expectancy of your system; unfortunately, even the best maintenance won't prevent normal wear and tear.
Service Agreement Benefits
The Benefits Of An Annual Service Agreement
It is common knowledge that residential heating and air-conditioning equipment should be serviced regularly. It is not common practice that this important and necessary procedure is performed annually by the homeowner! There are many benefits to having your equipment serviced annually and why signing up with the right contractor will be advantageous for you over the expected life of your equipment.
Here is a rusty heat exchanger on a residential boiler that has never been serviced.This could potentially lead to CO poisoning!
Your HVAC system is mechanical in nature and utilizes various parts that move, rub, grind, spin and turn. The constant motion of these mechanical components will eventually wear down, seize up, break and/or burnout. The system will also employ electrical devices to regulate or control the operation of the unit. These electrical controls will tend to short-out, weld shut or cause electrical wires to burn or even lose charge in some cases. Your HVAC system like your car will spend an extended amount of time operating to perform actual work. A system operating under normal conditions will give you an expected lifespan of 18-20 years. If your unit is not serviced on a regular basis it will not necessarily reach its estimated life expectancy. Perhaps it may, but with very much difficulty, i.e… excessive repairs. Unlike your car your equipment will not see a specialist to evaluate and address any issues plaguing the system. Too many people will wait until there's a problem to have the system checked out. Everyone knows an annual tune-up on your motorized vehicle will increase its fuel efficiencies by changing the spark plugs, wires, distributer cap, fuel filter, air-filter, etc… In addition adjustments need to be made to calibrate the engine so that everything works in unison for better fuel mileage.
Heating, Ventilation and Air-conditioning (HVAC) equipment is no different; it must be serviced regularly to keep it operating at its most efficient level. This is done by changing, adjusting, calibrating and in some cases cleaning components within the unit(s). Most people will be inclined to believe that their system(s) are fine, and are not in need of servicing. This false assumption is based on the fact that the equipment has been running the same way for X amount of years with no major repairs performed on the system. Your equipment will lose a certain amount of efficiency every year (it's hard to gauge how much it loses unless it's tested). It will continue to compound that loss until it "comes to a head" (dies). If you knew you were losing 2% efficiency every year on your equipment for 10 years and reducing its life expectancy, is that worth maintaining the system to you? Let's not forget that energy prices continue to rise! If on top of the 2% lose you also incur a 1% gas/electric increase per year for the next 10 years. Is the 30% loss in efficiency (which equates to a 30% net increase in your utility bill) enough of a reason to service this equipment even if you have not had a "major" breakdown? Than at the end of those ten years the cost to repair it out-weighs the cost to replace it and you never got 18 to 20yrs of service! A few good indicators that your equipment might be under-performing are high energy bills, poor comfort levels in the space and of course excessive breakdowns. If your equipment is still within the manufacturer's warranty period and you have a major break down it is possible for the manufacturer to deny your claim if it was a result of neglect. All manufacturer's recommend you perform annual maintenance on their equipment.
Look at the matted "DIRT" on this Indoor Evaporator Coil. This coil is extremely clogged but the system still works! This unit has never been serviced since its date of installation, 7 to 8 years prior to our arrival.
The matted "DIRT" was so thick we could peel it off without it falling apart. Do you think they might have had a problem with heating and cooling the space? What about their energy cost?
If you utilize a fuel (gas, oil or LP) burning heater unit and it has been poorly maintained or improperly installed, it was never installed to manufacturer's specification, you are most assuredly starting off with a loss of capacity. As the system continues to run and becomes less efficient it is highly likely it will produce high levels of carbon monoxide poison in the flue or in and around the heater. Since this is a colorless, odorless gas that could ultimately be vented into the living space, how do you know what your heater is doing? According to the CDC more than 15,200 people ended up in the hospital due to carbon monoxide poisoning from 2001-2003. It also notes that people are more susceptible to CO poisoning during the winter months, most notably December and January and that the biggest offender is incomplete combustion from fuel burning heaters.When signing up on a Service Agreement Contract, Precision Tune-up or a One Time Annual Clean and Check, be sure you understand the benefits you will be receiving under the plan. Let me dispel the myth that they are all the same. First, there's a difference between a 30 minute clean and check that most contractors perform and a Tune-up that can take a few hours. Under a clean and check almost nothing is calibrated or adjust to increase performance. If adjustments are needed your cost begins to go up and you can be sure the "big ticket items" will be brought to your attention. And the cleaning portion of the visit usually entails a quick "once over" of the system! A precision tune-up requires the technician to test, calibrate and adjust the system for added performance. You will get verifiable numbers detailing the systems performance before and after the precision tune-up. A Service Agreement Plan is designed to monitor your system over a set period of time with periodic site visits. A technician will evaluate your unit(s) and (in some cases) make the necessary adjustments to increase performance. They will assess the condition of major components to reduce break downs and insure the system is operating safely. These plans lock you in at an annual rate for a period of time but with added benefits.
A few of the benefits you'll receive on our Service Agreement Plan are:
15% discount on all repair services
Priority customer status
Lower operating cost
Reduced equipment run-time
Contact Us If You Want To Sign Up On Our Service Agreements, Schedule A Precision Tune-Up Or A One Time Annual Cleaning and Check